Passage to India?
A Review of Elephant Dance: A Journey to India
A Guest Column by Pooja Makhijani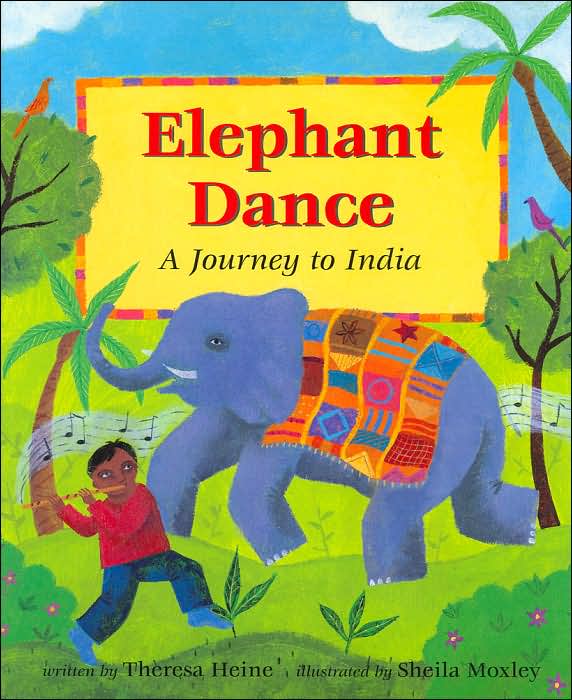 Spices? Check
Mangoes? Check.
Elephants, snakes, monkeys? Check, check, and check.
Sigh. Did Theresa Heine, author of Elephant Dance: A Journey to India (paperback, Barefoot Books, 2006; previously released in hardcover as Elephant Dance: Memories of India, Barefoot Books, 2004), read a copy of How To Write About India before writing this uneven picture book?
I shouldn't be so harsh; the book does have some redeeming qualities. But before I praise and criticize it, however, a brief summary. Ravi and Anjali's grandfather arrives from India to their (unspecified) country. Both children ask him question after question: "Is it hot in India?"; "Is there snow in India?"; "Have you ever seen an elephant?" Grandfather responds in colorful metaphors and entertains Ravi and Anjali with his stories.
Heine is a poet, and the book contains a number of beautifully crafted passages. For example, when Ravi asks his grandfather, "...What is the rain like [in India]?" Grandfather says, "The monsoon rain is like a curtain, silver like Anjali's bangles. It cascades like a waterfall from the sky, making many mirrors on the ground. Raindrops scurry to and fro like little silver fish." Both her choice of the word "scurry" and her repetition of the adjective "silver" are delightful.
Additionally, illustrator Sheila Moxley's colorful paintings are pleasing to the eye. My favorite spread is a dream sequence at the end of the book where sock-footed Ravi, bamboo flute to his lips, sees "the elephant dancing a silent dance."
Unfortunately, neither Heine's occasional literary flourishes nor Moxley's multi-hued illustrations are enough hide the flaws in this problematic book. The book employs every clichéd image of India: heat, rain, dust, tigers, dark brown villagers, cows, spices, elephants, maharajas, peacocks, snakes, monkeys, and mangoes. It is 2007; most readers know that India is more than just an impoverished, rural society or an exotic place for new-age types.
Both the text and the art treat India as if the country were a monolithic place. Ravi asks about "India" and Grandfather replies with definitive responses, as if the weather, vegetation, and wildlife were the same throughout the vast country. According to the CIA's World Factbook, the area of India is 3,287,590 square kilometers (slightly more than one-third the size of the United States) and has more than 7,000 kilometers of coastline. According to Wikipedia, India is home to 7.6% of all mammalian, 12.6% of avian, 6.2% of reptilian, and 6% of flowering plant species. India's forests ranges from tropical rainforests of the Andaman Islands, Western Ghats, and Northeast India to coniferous forest of the Himalaya. India is also home to 1,095,351,995 people who speak different languages (30% of Indians speak Hindi, the national language, but there are 14 other official languages in the country), practice different religions, eat different foods. Heine's descriptions of India are romantic and unparticular; Moxley's illustrations reinforce them.
The back matter of the book—"Living in India," "The Animals of India," "Food and Spices," and the musical score to Ravi's "Elephant Dance"—provides "a perfect introduction to Indian life and traditions" or so the publisher tells the reader. The endnotes, at best, paint India with broad brush strokes and offer a stereotypical, superficial view of the diverse country. Yes, the information provided in the notes is accurate, but without the necessary context, it's almost meaningless.
For a better—more precise—introduction to India, I recommend two brilliant picture books: Monsoon, written by Uma Krishnaswami and illustrated by Jamel Akib, and The Road to Mumbai, by Ruth Jayaveeran.
o o o o o
Pooja Makhijani's first picture book, Mama's Saris, will (finally) hit bookshelves in 2007.